Looking for a fast and cost-efficient ship repair?
FAST & DURABLE REPAIR SOLUTION FOR YOUR VESSEL

COMPA Repair service is cost-effective and fully tailored to your needs.
Repairs can be performed during vessel voyage or port operations, and our repair team is at your disposal 24/7.
COMPA REPAIR TECHNICIANS TAKE CARE OF:
Damage inspection
Surface preparation
Material preparation
Application of material
Curing
Final inspection and approval
BALLAST TANK IN DOUBLE BOTTOM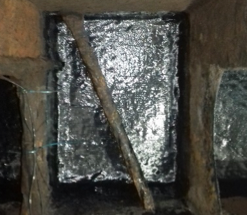 Prior the repair process, our engineers and composite experts investigate the damage parameters and then develop a repair plan using COMPA Repairs software and CATIA software.
Result is an optimal patch and precise plan for a customized repair service on board ships
COMPA Repairs has a record of successful repairs on ships in cases such as ballast piping and tanks, sewage and HFO tanks, thermal oil piping, valves, flanges, decks, bulkheads, garage floors, air-conditioning units to mention but a few. We are mastering structural and pipe analyses, using various engineering software, based on which we design optimal repair solution.
COMPA Repairs technology received a
Statement of Feasibility certificate by DNV-GL.