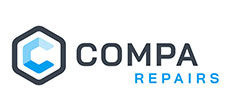 COMPA Repairs is an expert company in composite technologies, providing fast and cost-effective repair solutions for ships. COMPA Repairs provides methods for fast and durable repair and reinforcement of damaged structures and pipes in ships.
The COMPA method uses composite materials such as carbon and glass fibres mixed with epoxy resin/adhesive in order to repair and reinforce the damaged surface. The resin hardens and bonds to the surface permanently. As a result the fibre reinstates the strength of the damaged part while creating a solid new layer of material. The aforementioned layer of materials reinforces the applied structure while also providing full watertightness.
Use & Benefits of COMPA Repairs Method
You can use COMPA methods in order to:
Reinforce the cracked structure or pipe system and reinstate strength and stiffness of the damaged parts.
Provide water tightness to the structure.
Durable patch that is resistant to osmosis.
Can be applied in various ship applications such as ballast piping, tanks, sewage system, thermal oil piping, valves, flanges, bulkheads, air conditioning units and many others.
Some other benefits are:
Fast and cost effective repair solution compared to more traditional repairs.
Increased safety. There are no hot works involved in the repair procedures.
Repair procedure can be done during voyage or port operations
COMPA Repairs Authorized Exclusive Sales Agent in Greece & Cyprus
Oceantech Shipping & Trading is the authorized agent in Greece and Cyprus of COMPA Repairs. Our company can offer you, through our cooperation with COMPA Repairs, a wide range of composite repairs in a short period of time.
Why Choose Us
Oceantech Shipping & Trading Ltd. offers through our Principals in COMPA specialized composite materials repairs of a ships hull and piping system. Our team of specialists is always ready to execute repairs in a short periods of time after the received inquiry.
Please send us your inquiries via mail, enabling us to prepare your repair quotation the soonest. Also feel free to contact us for more information about pricing and all other procedures.
Tel: +30 2130337678
Email: oceantech@ost.gr