Maritime Services for a Cleaner Environment
Oceantech Shipping and Trading in conjunction with our Eurofins Maritime Services partnership contributes to a clean and safe environment by providing market-leading laboratory testing, monitoring and consultancy marine services.
Our goal is to offer Maritime industry a single-source supplier solution. Our current services comprise testing of oil and water, asbestos testing, fuel and air emissions testing and also VGP and D2-Commissioning testing. We can also maintain and keep track of the inventory of hazardous materials to assess their quality and impact on health and the environment.
Our objective is to provide our customers with high-quality services, accurate results on time, competitive pricing and potential for covering the entire globe.
About Eurofins Maritime Services
Our collaboration with Eurofins IHM, an international life sciences company can provide a unique range of analytical testing services to clients across multiple industries:
Visual & Sampling Check Plan (VSCP) development
On Board Visual & Sampling Check
Asbestos Laboratory Analysis and Testing
IHM Maintenance Reports Compilation and Submission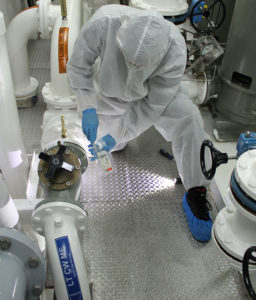 The Eurofins IHM Group
The Group is a leading provider of analytical services with:
an international network of more than 800 laboratories across 47 countries in Europe, North and South America and Asia-Pacific
about 45,000 people
a portfolio of over 200,000 validated analytical methods
more than 400 million tests performed each year to establish the safety, identity, composition, authenticity, origin, trace ability, and purity of biological substances and products, as well as carry out human diagnostic services