Muyi Shipping Equipment Co., Ltd is a shipping company specializing in the development, production, installation and sales of marine GRE (Glass fiber – Reinforced Epoxy) / GRP (Glass fiber – Reinforced Plastic) and FRP Grading ship deck products. The company was established in 1976 and its products were listed by the China's Ministry of Science and Technology in their 'National torch Project'.
Through continuous research and development Muyi has established themselves as one of the largest marine GRE / GRP product manufacturers in China and abroad with multiple advanced GRE / GRP technologies and ship equipment, capable of supplying their line of GRE / GRP products for over 300 ships annually. Muyi obtained the ISO 9001 certification by DNV in 2000 and has also obtained additional type approval certifications by the global leading classification societies and established institutions like, ABS, BV, CCS, DNV, GL, LR, NK, USCG etc.
Product Solutions
Muyi has been working closely with an extensive list of domestic and overseas shipyards researching and developing the following products:
GRE / GRP (Glass – Fiber Reinforced Epoxy & Piping) – Piping System
FRP (Fiber Reinforced Plastic) – Marine Gratings
GRP (Glass – Fiber Reinforced Plastic) – Cable Supportings
Iron & Steel Outfittings
Customized Products – Firehose Box, Lifejacket Box, Battery Box etc
and has won a great reputation in the Marine & Offshore industry.
FRP Product Advantages
FRP Grating is a meshed square, providing molded, pultruded and phenolic gratings. The standard size is 1220 x 3660 mm, but also other sizes are available. MUYI  gratings have a variety of types with exquisite appearance, light weight, high strength, good conductivity, easy installation and long service life. The gratings are flame retardant meeting IMO standards or low flame spread, smoke and toxicity.
The phenolic gratings are approved by USCG for level 2 fire resistance testing and can be used in some areas with special fire resistance requirements, such as the aisle of liquefied gas carriers and offshore platforms.
Advantages of Products in contradiction of steel:
Light Weight
Excellence Corrosion Resistance Ability
Long Service Life
Excellence Media Transmission Ability
Low Coefficient of Thermal Conductivity & Thermal Stress
Excellent Electromagnetic Insulation
Easy Installation
Low Operation / Maintenance Cost
GRE / GRP Product Advantages
GRE (Glass Fiber Reinforced Epoxy) pipe is a new type of composite material with the epoxy resin matrix. MUYI 's GRE pipes are made by the winding process. The product design complies with IMO Resolution A753 (18) Guidelines and Type Approval requirements of all the major classification societies.
The internal pressure of MUYI pipes is 16 bar and the external pressure rate is 3.8 bar. All piping systems meet the IMO – L3 level fire resistance requirement.
Typical Use of GRE / GRP Products:
Scrubber Installations
Ballast Lines
Cargo Lines
Potable Water
Sewage Treatment
Steam Condensate Draining Pipes
GRP (Glass Fiber Reinforced Plastic)  is a new composite material that is in increasing use in more and more marine & offshore applications, since it's first appearance 50 years ago. This is due to its overwhelming advantages over traditional steels.
GRE Piping Materials for Scrubber Installation
The product Scrubber series include:
Pipe
Fitting: Tee, Elbow, Flange, Reducer, Coupling, Saddle etc
Double O – Ring Expamsion
Coupling and Spools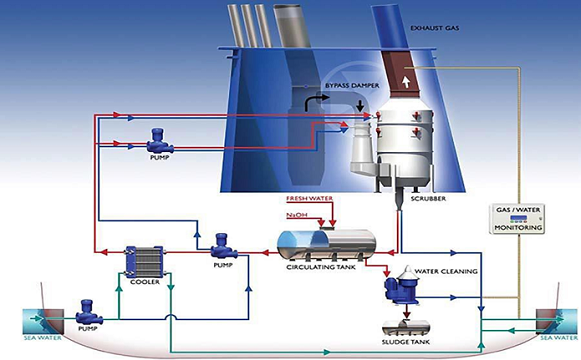 We provide our customers the complete solution from the early design, product manufacturing and installation to the final acceptance of the ship – owner and surveyor, including:
Basic Technical Support, such as support span, axial load, joint strength, burst pressure etc.
Estimate of Bills of Material
Optimization of Design Drawings
Pipe Stress Analysis
On – site Training, Installation Guidance
Design of Customized Products
Communication with the Classification Society
Global After – Sales Repair