Air Compressors – General Information
Air Compressors play a crucial role part in various systems within a vessel. They generate compressed air, which can be utilized for a wide range of applications on board. For example, we use compressed air for starting and stopping diesel engines, operating pneumatic control systems, and also for the operation of a wide range of pneumatic tools. Compressors are also essential for providing compressed air to safety equipment such as life vests, life rafts, and breathing apparatus in case of an emergency.
Here at Oceantech Ltd, we provide our customers with new or second-hand reconditioned air compressors at the most competitive prices through our reliable global sources network. Moreover, we can provide servicing and spare parts from Korea, China, Japan, and Europe for most types of compressors.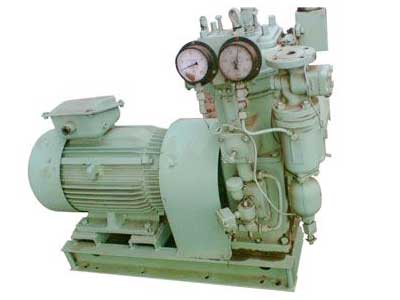 Quality OEM & Genuine Air Compressor Spares from Korea, China, Japan & Northern Europe
Oceantech Shipping & Trading Ltd, OEM spare parts range offers value to your maintenance budget along with optimum results. Through our reliable global network, we can provide high-quality air compressor parts at cost-effective prices with immediate availability.
Air Compressor Manufacturers & Types
ALUP: SCK15, SCK22, SCK26, SCK31, SCK41, SCK42, SCK51, SCK52, SCK76, etc
ALMiG: BELT MA 12, MA 17, MA 24, MA 33, MA 41, MA 51, MA 62
BOGE: Compressor parts
JP Sauer & Sohn: WP13, WP15, WP18, WP22, WP25, WP32, WP33, WP40, WP45, WP50, WP60, WP65, WP100, WP200, WP240, WP400, WP15L, WP22L, WP121L, WP151L, WP271L, WP311L, etc
Hamworthy / Hatlapa: 2SF3, 2SF4, 2SF42, 2SF43, 2TF5, 2TF54, 2TM6, 2TM61, 2TM63, 2TM68, 2MF6, 2MF64, V105, V150, V200, V250, V375, etc
Sperre: LL2/77, LL2/90, LL2/105, LL2/120, LL2/140, LL2/160, HLH/119, HLF2/77, HL2/90, HL2/105, HL2/120, HL2/140, HL2/160, HV1/85, HV1/120, HV1/140, HV1/156, HV2/200, HV2/210, HV2/219, HV2/220, HV2/240, HV2/270, HV2/285, HV2/300, XW060, XW090, XW120, XW150, XW180, XW200, XW250, XA045, XA060, XA090, XA120, XA150, XA200, etc
Tamrotor: TMC, EMH, L series, etc
Tanabe: VLH series, HC65A, 263, 264A, 265, 275A, SHC series, etc
Why Choose Us for Main Air Compressors
As a company, we always keep up with the latest advances in air compressor technology. We occupy trained, service-minded technicians, with many years of experience with air compressors, pumps, and generic ship machinery. We use this knowledge to deliver excellent maintenance services to our customers.
Please send us your inquiries via mail, enabling us to prepare your air compressor spare parts quotation the soonest. Also, feel free to contact us for more information about pricing and all other procedures.
Tel: +30 2130337678
Email: oceantech@ost.gr