Ferryl 202 Standard Anticorrosive Grease is a high quality wire-rope grease that provides excellent rust protection and lubrication. It protects wires and ropes through penetration of the wire core, thus extending wire life and efficiency of use.
Main Applications: Mooring Wires, Winches, Crane & Ramp Wires, Lifeboat Falls, Shackles, Hatchcover Wheels, Valves, Bearing, Derricks, Hoists, Screws, Bolts and more.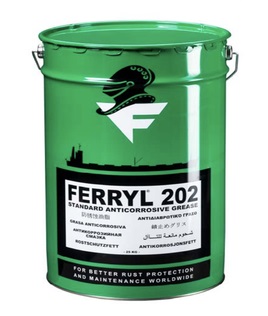 Ferryl 202 Standard Information & Properties
Ferryl 202 is a quality rope grease that protects wires, cables, screws, bolts, lashes and winches through penetration to the core of the wire. It has a high melting point so it can be used in extreme climates and temperatures. The temperatures may range from extreme heat to well below freezing point.
Ferryl 202 contains chemically active rust inhibitors for ultimate rust protection and its rubberised binders ensure excellent adhesion to the wire. Moreover it creates a semi-drying film on the wire surface that acts as a protective layer preventing penetration of moisture.
Overall Ferryl 202 Standard Anticorrosive grease offers excellent tribological qualities, that ensure the prolonging of wire lubrication and efficient operation of the surrounding mechanisms.
Grease Coverage Instructions
Your crew can apply the grease with a brush, wearing gloves or by using a special wire-lubricator. The Ferryl Wire Rope Lubricator is an excellent tool for wire lubrication operations.  Ferry Standard grease is available in 25kg metal containers or 900g tin cans depending on your vessels needs.
Oceantech Shipping & Trading Ltd., is the official representative of Ferryl products in Greece and Cyprus. Should you need any further information about our products, please do not hesitate to contact us.
Tel: 213-0337678